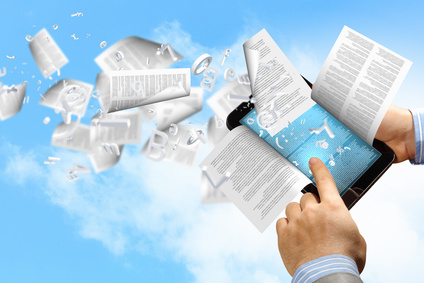 The information we can choose to read each day is growing at an enormous rate due to the availability of digital information.  Taking into account email messages and attachments, online articles and stories, information shared via networks and cloud systems, and the vast array of social media options, we can spend our entire day in reading mode.   In last month's article, I discussed tips and tools for managing your reading materials that are in paper form.  This month, I promised to focus on ideas for managing your electronic reading information.
Steps for management of digital reading:
1. Acknowledge that you can't read everything.  Unsubscribe from email lists that don't provide you value.  Delete information that doesn't apply to your personal or professional vision and goals. The more you can declutter, keeping only that which applies to your current values and goals, the less stress and overwhelm you will feel.
2. Categorize your information by type.
Is it necessary for a current project or training need (active reading)?
Are you keeping it for a future project or "just in case" you may need it (reference reading)?
Is it leisure reading, or perhaps a quick read that will either be deleted or stored as reference once you are finished (for example, an email newsletter)?
3. Determine how and where you will store your information.  This should depend on the type of reading as determined above.  For example, email newsletters might be stored in a "To Read" folder, or you might save them to your hard drive or an online system such as Evernote, Dropbox or iPEP(the system I personally use, which allows me to forward emails and attachments directly to my iPEP online workspaces).  If a message or attachment is related to a current or future project, consider attaching it to your task or reminder system so it is available when and where you need it.
4. Regardless of where you store your electronic reading, it should be organized in a logical way that allows for easy retrieval.  Using good titles, tags and keywords will enhance your ability to search for information.  And, if your digital reading is stored in OCR (optical character resolution) format, your search program can search content within the document as well.  Programs such as Adobe Acrobat Standard or Pro allow you to scan and convert documents to OCR format.
Once you have decluttered, defined and categorized your digital reading materials, and you have developed a basic organizational structure for storage and retrieval, you can begin to enhance your structure with helpful add-ins and applications.  One of my favorites is Pocket, a free application for desktop and mobiles devices that allows you to save articles, videos, etc. in your electronic "pocket."  If it's in your Pocket, you can view it later on any of your mobile devices, with or without an internet connection.  Instead of using those free minutes to surf Facebook, catch up on some reading!  A helpful tool for email newsletters is Unroll.me, which is offered for Gmail and Yahoo email users.  Unroll.me allows you to roll subscription emails into a daily digest.  You can then review them at one time instead of being distracted by several throughout the day.
I'd love to hear what reading tools and apps you love to use!  Please share your favorites on our Facebook page.