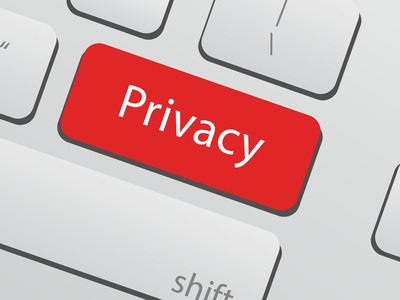 According to a 2012 infographic from Go-Golf.com, Americans spend 32 hours per month on the internet.  Do you know that when you shop, research, surf and socialize online you may have several third-parties watching your every move?  There are ways you can reduce the ability of these "stalkers" to follow you.  Most importantly, be sure your firewall and anti-spam software is up to date and the internet privacy settings are appropriate for your needs.
An article in this month's Money magazine* offers a few additional tips to cut down on internet stalking:
1. Cut the cookies. In your browser's privacy settings, block third-party cookies to make it tougher for marketers to keep tabs on you.  While there, check the "do not track" request, the online equivalent of a do-not-call list, says Joseph Lorenzo Hall of the Center for Democracy & Technology.
Here is a picture of my settings in the Mozilla Firefox browser after choosing Tools>Options>Privacy:

You may also set it to "never save your history" and remove cookies often.
Following are the steps for other browsers, from Business Insider:
Chrome: Chrome> Preferences> Settings> Advanced Settings> Privacy> Content Settings> Click, "Block Third Party Cookies and Site Data."
Safari: Safari> Preferences> Security> Accept Cookies> select "never." You might also want to consider browsing privately so your history and passwords are not stored, and thus accessible.
Internet Explorer 10: Microsoft's latest version of Internet Explorer 10 will default to a "Do Not Track" position. The browser will send a signal to advertisers altering them that users do not want to be tracked.
2. See who's watching. Visit a single site and you might pick up dozens of tracking tags that tail you on the web.  The free browser extension Ghostery lets you see them and decide which to nix. For shutting out third-party ads, Peter Eckersley of the Electronic Frontier Foundation suggest the free AdBlock Plus extension.
3. Get an email alias. Finding you online via your email address – obtained from your loyalty card, perhaps – marketers can link your online and offline behavior and solicit you accordingly. To prevent this, Stefen Smith of information security firm SecureForce advises setting up an email account solely for commercial transactions.
* "Shop Online, Unobserved" by Sarah Max, Money, July 2013, p. 22.