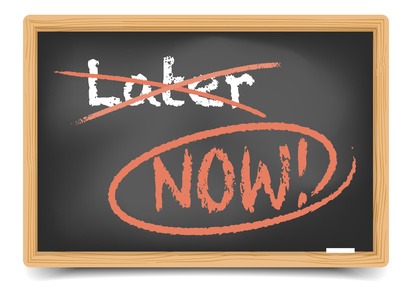 Many of us struggle at times with getting things done due to procrastination. There are many reasons that we might put something off for later; it is a task we don't enjoy, it appears overwhelming, we aren't prioritizing it, we don't have the right knowledge or tools or we just don't know where to start. Following are 3 tips to help move forward towards productive action.
1. Make better decisions. Much of our clutter, including the longer-than-necessary to-do list, is due to postponed decisions.  In a prior article, I shared the File-Act-Toss™ process and the Magic 6™ tools needed to more easily make decisions.  But even with the right tools and systems in place, there are times we just seem to be stuck.  The task or project may not fit our current vision and goals, we may be waiting on someone else to move the project along or we may not be the right person for the job.  Asking yourself "What would need to change in order for me to take action?" can provide powerful guidance for moving forward.
2. Use an action verb. When a task or project seems overwhelming or you just aren't sure where to start, take it one step at a time.  Determine what needs to happen next, using an action verb to state the task.  For example, 'Call Joan today,' 'Create a list of newsletter ideas,' or 'Write an outline for Chapter 1.'  Once that step is completed, determine the next step using an action verb and so on.
3. Eat that frog. To use the term made popular in David Allen's book, Eat That Frog!: 21 Great Ways to Stop Procrastinating and Get More Done in Less Time , Eat That Frog refers to attacking those tasks we have been putting off because it is something we just don't like, or want, to do – i.e. the frogs.  Often these tasks can have the largest impact on our work or life.  Complete the frog first, before anything else.  You are then able to more easily move through your day knowing the "biggest and worst" task has already been completed.
These are three very simple tasks that, when done regularly, can have a huge impact on the way that you live and work.  I'd love to hear your success stories after putting them into practice.  Send me an email or post a comment on our Facebook page.