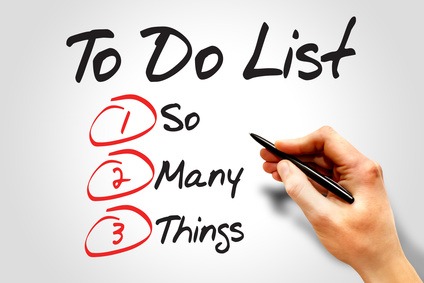 One of the most successful exercises I have done related to time management is to create two written lists which help me focus, set priorities and ensure I am working on the right things. The first list states "10 Things I Want to Be Doing That I am Not Currently Doing" and the second list states "10 Things I am Doing that I Would Rather Not Be ".
The lists cover not only career related items, but personal items as well – anything that I feel will bring the appropriate balance, direction and focus to my life. Just the act of forcing myself to think through these lists, and write them down, taught me more about myself and my priorities then any prior exercise.
Gain Focus and Accountability
I then shared my lists with an accountability partner, who did the same. We talked through our lists and discussed how we might change our current situation to address the items on the lists. We then chose an item from each of our individual lists that we felt were not only high priority, but that could reasonably be achieved in the time we set for ourselves.
We continued to speak on a scheduled basis. We discussed our progress and when we were ready, choose another item from our lists to focus on until we spoke again. Forcing myself to write down BOTH lists gave me more focus and direction than I'd had in a long time. Knowing that I had a partner that was interested in my actions and goals kept me motivated. If I felt myself distracted or not sure what I should be working on, I could go back to my lists and conversation notes and once again become focused on what is most important.
Try It
Why not take 15 minutes and try this exercise for yourself. Create your two lists and find a partner to keep you focused and hold you accountable. I'm confident your productivity will increase as well. Let me know how it goes by coming back and commenting below.
Need an accountability partner? Shoot me an email at lori@alifemadesimple.com to learn more about how Productivity Coaching can help you overcome overwhelm, get clear, and reach your goals.