A couple months ago, my two daughters and I had the chance to do something I never thought I'd do. Typically, my fear of heights and "mother instinct" would have prevented me and my girls (ages 9 and 12) from experiencing one of the best adventures of our lives. But thanks to Vallarta Adventures, I overcame my fear and accomplished The Superman, the longest and fastest zipline in Mexico. What did Vallarta Adventures do? To answer simply, they started small.
After the one hour journey into the jungle, our guides suited us up with our helmets, harnesses and gloves and provided general instructions for the day's adventures. We then headed out for our first zipline. While I was a bit nervous, I also knew that children over the age of 8 were able to partake in this Extreme Adventure experience, so how bad could it be? The first zipline was pretty low-stress for most as we started on a platform overlooking a gradual decline, not a straight drop-off as I had imagined. As the day went on, the ziplines gradually became longer and higher. Additional adventures such as climbing a steep rope wall, repelling from a tree branch, walking a tightrope between two trees, and jumping from a platform attached only to a "bungee swing" provided the group with increased bravery and trust as the day progressed.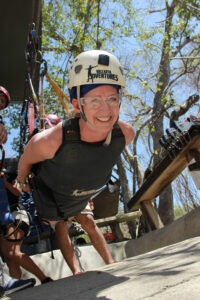 Finally we came upon our last zipline, The Superman. By this time, I had complete trust in our guides, the equipment, and my own judgment that my children and I would be safe. If we would have been asked to do the Superman first, or even earlier in the day, I likely would have told the guides they were crazy. But because they started small and gradually built us up, even though the course was still a little scary, there wasn't a doubt in my mind that we would all ride the longest and fastest zipline in Mexico. Their process resulted in an end goal that was achievable, low stress and fun.
What adventures or goals are you missing out on because of fear, anxiety, stress or overwhelm? How can you apply Vallarta Adventure's process to your work or your life? Maybe you would like to be more organized or productive, but have obstacles keeping you from getting started. Perhaps you have a career or business goal that seems out of reach. What is one small action you can take towards reaching your vision? Perhaps it is making that first phone call to set up a meeting, tackling a pile of papers on your desktop or signing up for a class related to your goal. After that one action is complete, what is your next action, and the next? Step by step, you will start to gain confidence and trust, and your vision will become clearer. Soon, you will be flying…