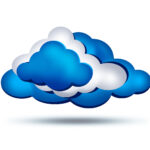 Whether or not you have heard of "cloud computing," you more than likely work with cloud systems every day.  Every time you send or receive an email, you are sending information through the Internet and are therefore using the cloud.  If you take part in online banking, you are working within a cloud system.  When you upload and share your photos via Snapfish or Shutterfly, you are using a Software-as-a-Service (SaaS) cloud model.
Google Calendar, Gmail, iCloud and Evernote are all popular cloud-based solutions.  The various functions cloud computing software can provide, as well as the many options within these functions, can be enough to make you feel as though your head really is "in the clouds."  Following are some basic tips to help you navigate this powerful and growing area of our lives.
Benefits of Cloud Computing
1. It is sold on demand and can be put in place in a matter of minutes.
2. You can purchase only as much of the service as you need.
3. You need only a computer (or mobile device) and Internet access to begin it.
4. There is a reduced need for IT services to maintain an internal server and software.
5. You pay monthly or annually — normally with no service contracts.  Therefore, it is more cost effective for many individuals and businesses.
6. Upgrades are automatic.
7. Storage space is virtually unlimited.
8. The ability to access information from any computer allows for greater mobility.
9. Flexibility and creativity are enhanced as you are allowed to choose different providers for each business need.  In addition, many cloud computer solutions can be as simple or as customizable as you want based on your technical abilities.
10. Disaster relief is more efficient.  For example, if a computer crashes, a laptop is stolen or there is a natural disaster, you are back to work immediately on another computer.  No data is lost.
Risks of Cloud Computing
As you can see from the above list of benefits, the rewards of cloud computing can be tremendous, but it is vital that the risks are evaluated and managed.
1. Security: It is important to ask and understand the data management and hiring practices of the cloud provider you choose.  Look for providers that are SAS 70 Type II certified.  Or even better (and more current), look for SSAE 16, SOC 2 and/or SOC 3 certification. Providers continue to learn how to put better levels of security in place to prevent online hacking of information and data.
2. Data loss and recovery: Data on the cloud is almost always encrypted to ensure security of the data. Corrupted encrypted data is harder to recover than unencrypted data. Know how the provider plans to recover your data in a disaster scenario and how long it will take.
3. Provider strength and lifetime: What happens to your information if the cloud service provider is acquired or closes its doors?  How easy will it be to transfer data if needed?  Consider this risk and review the provider's policies for data ownership and retrieval.
4. Regulatory and legal requirements: It is vital for organizations to consider any regulatory or legal requirements regarding the storage of information.
5. Data access: Individuals and businesses must ensure they have the ability to apply security at the appropriate levels.
6. Flexibility: While flexibility is a cloud computing benefit, it also carries the risk of having too many systems to manage and coordinate.  It is important to consider how data and information will be synchronized, shared and managed between multiple systems.
Cloud computing is not going away.  I believe that in the next 5 or 10 years, it will be the solution of choice for most, if not all, information storage and function.  It is vital that we understand this technology in order to choose the most ideal solutions for our organization and productivity needs.